Friends, Family and....Love.
Katy Heart never thought she'd be the girl who had a one-night stand. After getting dumped on her birthday for being too innocent, Katy does something adventurous and takes home the hot bartender.

Connor McKinnon is looking for a good time, nothing else. He tried the serious relationship and it bit him in the ass, leaving him alone and miserable. When a beautiful girl walks in to his pub asking for his favorite whiskey, her bright eyes and beautiful smile immediately attract him. He decides he's taking her home.

Sparks flare hot and bright for these two, but when trouble comes calling and a past love comes back, is a relationship built on a
one-night stand strong enough to make it through?
About The Author - Ashley Kay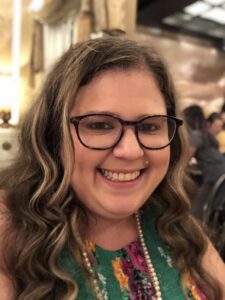 Ashley is a romance author who grew up reading romance from any genre she could find. Now she spins her creative web writing adult romance books about broken people finding their other halves and happily ever afters with lots of steam squeezed in, of course.
As a work from home wife and mom to one amazing little girl, she lives just outside the bright lights of Las Vegas. You can usually find her running around her neighborhood with her crazy little, laughing and joking with her hot bearded husband, or sipping coffee with her headphones on plotting new characters and steamy scenes to bring to life in her world.
She is the author of Trusting You, available now on amazon.
Learn more about her.